Products You May Like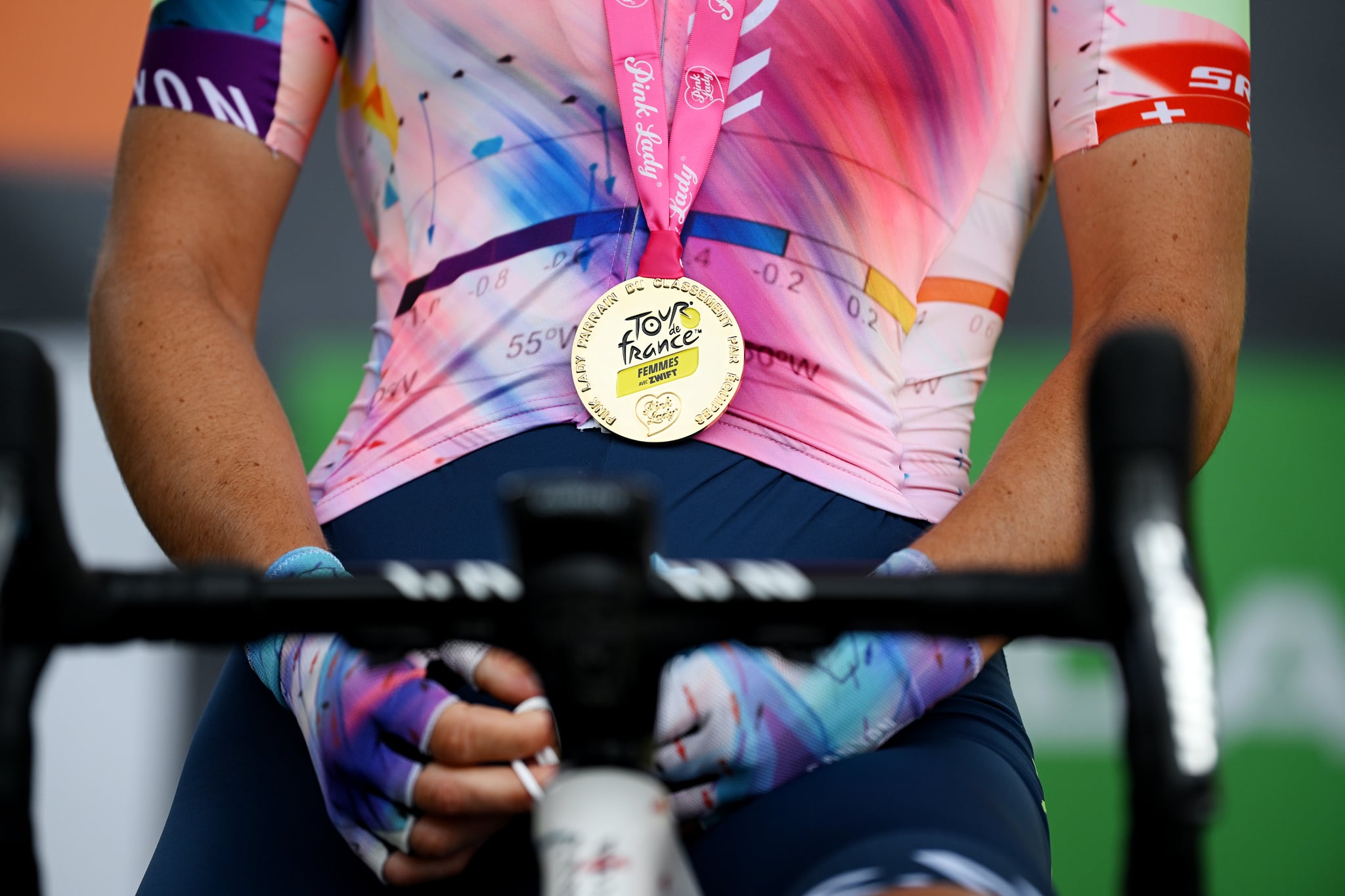 When Marianne Martin won the first women's Tour de France Féminin in 1984, it seemed that women's cycling had a bright future. It was more than 80 years behind the 21-stage men's race, which had been going strong since 1903, but what mattered was that it was happening at all.
Then, just five years later, Tour de France Féminin was discontinued. Its downfall was attributed to a lack of funding, though that in itself was just indicative of the lack of societal support and belief in women's cycling — and women's sports in general.
"When we started the race, the French didn't think we would finish," Martin tells POPSUGAR. "It shows the mentality that people can have about the capabilities of women. We've got to break that barrier."
Now, 33 years later, the sport is trying, again, to show exactly what women athletes can do. This year marks the first Le Tour de France Femmes avec Zwift, another try at matching the legendary men's competition. It's being celebrated — and rightfully so — as a victory for women's cycling. But the win is bittersweet. In some ways, it only throws into relief how unequal the cycling world's treatment of women and men athletes really is.
The Turbulent History of the Women's Tour de France
The women's tour has had a fraught history and many false starts. Though you may be hearing the 2022 event pegged as the "first women's Tour de France," it's actually one of many attempts at such a race. The real first-ever women's Tour launched in 1955, almost 30 years prior to Martin's win. The race was put on by French sports journalist Jean Leulliot; 41 women raced and finished five stages, but unfortunately, it didn't see another year due to lack of financial backing, according to VeloNews.
Then there were the five years of the Tour de France Féminin in the 1980s, the first of which Martin won. The cyclists rode 18 stages in the first, but was reduced down to 11 by the last run in 1989. Again, funding fell short, and the race disappeared.
In the following decades, there were a slew of other races that didn't measure up to the men's Tour de France in mileage, sponsorship, prize money, or logistical support. Take, for example, Le Course by Le Tour de France, which ran from 2014 to 2020 and consisted of just one- or two-day races timed to legs of the men's event — an opportunity that some cyclists have regarded as more of an insult.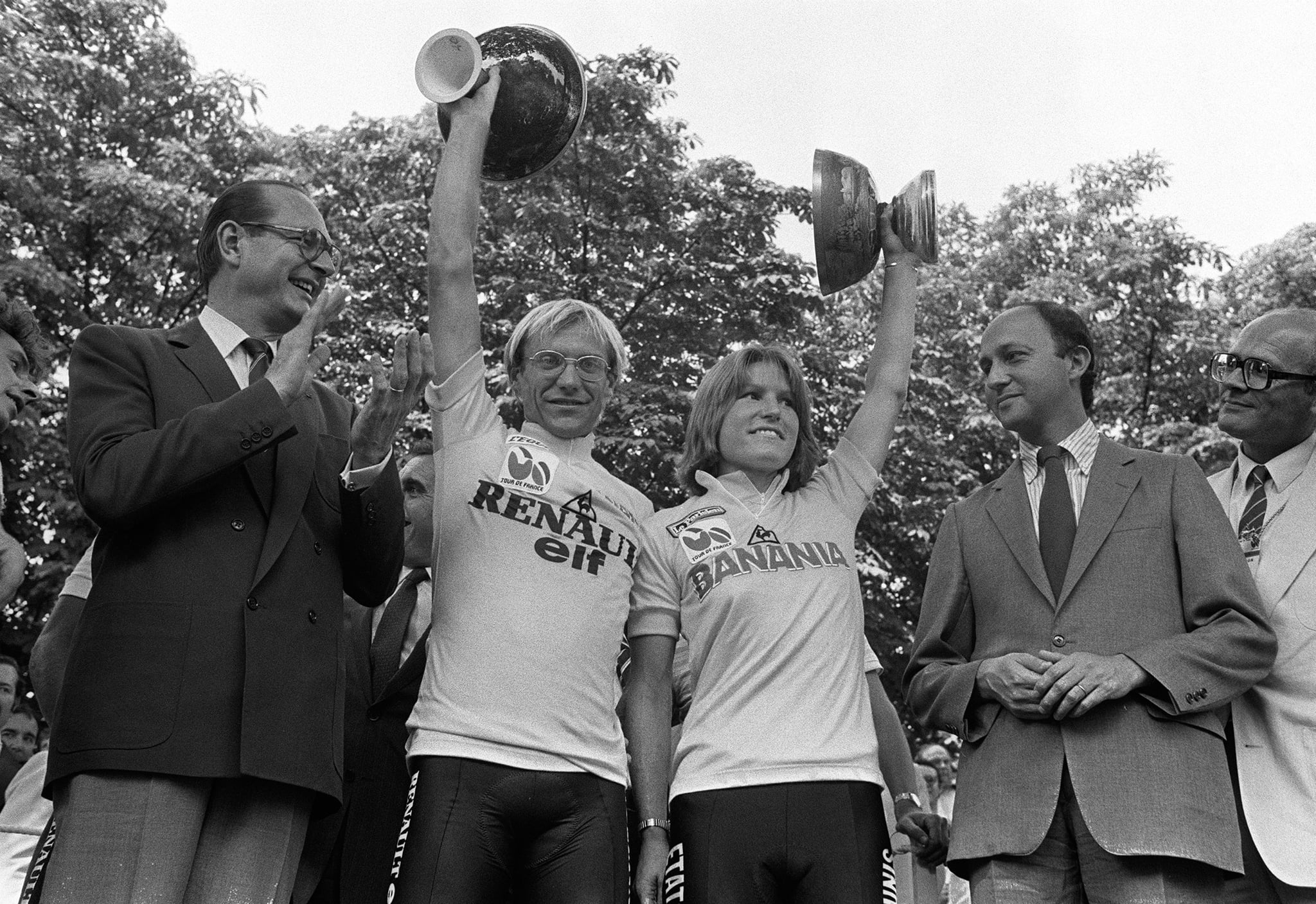 Image Source: AFP via Getty Images
Mind the Gaps — In Pay and Riding
This year's race is finally possible with major backing from title sponsor Zwift, an indoor cycling training app. It's back! It's sponsored! It's being broadcast all over the world! All in all, it's a win.
But when you look closer, you'll notice the glaring inequalities that make Le Tour de France Femmes avec Zwift feel a bit disappointing. The 2022 prize money from the women's tour is about 10 percent of the men's Tour prize money — 250,000 Euro compared to 2.3 million Euro. (And mind you, this is split between the riders and staff on each team.)
I quit probably sooner than I would've because of the financial burden.You can only go so long without making any income.
The unequal pay issue is not new (or specific to cycling). Back in 1984, Martin won a mere $1,000, while the men's winner took home at least $225,000. She was completely self-funded and going into debt to pursue cycling. Even after winning the Tour, she wasn't making enough to maintain her career: "I quit probably sooner than I would've because of the financial burden," she says. "You can only go so long without making any income."
Pay aside, women cyclists aren't even given the opportunity to prove that they can ride just as long and hard as the men. The 2022 women's race totals 1,033.6 km across eight stages, while the men's race logs 3,349.8 km across 21.
"Women can do so much, and we've got to get past [the idea that they can't]," Martin says. (In fact, some science suggests women may be better than men at endurance activities.) "To me personally, [the Tour de France Féminin] was something that let me strive to be the best, because there was a race 'beyond all races.' Without that, there's still a lot of opportunity . . . but when there's something so significant to strive for, I think we come to the plate with more."
Why the Tour Is Still Huge for Women's Cycling
As an onlooker (and, frankly, someone who's fired up about other inequalities threatening women right now, particularly in the US), it's easy to feel frustrated that it's not enough. But the cyclists racing the event are excited to be there — and rightfully so.
"I'm really proud to be at the starting line of Le Tour de France Femmes," says Demi Vollering, who's riding with Specialized's Team SD Worx. "We have a younger generation that looks up to us and that will be inspired by us to get on a bike themselves."
Even though this inaugural Tour de France Femmes may not be perfect, it's at least a step in the right direction — and with the right attention and success, supporters and sponsors can help grow the race into what it should be.
"This is a huge milestone for the sport," says Olympic gold medalist Anna van der Breggen, SD Worx coach and a sports director for the race. "Le Tour de France femmes will give the sport new supporters who will discover how nice it is to watch women's cycling, and that will only increase the interest of sponsors to invest in this sport. And as a result, with more money, we can further professionalize the sport."
Luckily, initiatives like Strava's Strive for More (a commitment to funding, endorsement, and mentorship programming to promote equity in professional sport) are helping to push the needle forward. Because arguably the biggest impact of the resuscitation of the women's Tour is that it helps prove to future women riders that they, too, can do something as epic and difficult as riding in this iconic race.
A thought on the the Tour de France Femmes and how you can do your bit to grow womens cycling. It's simple. Watch. Shout about the coverage. Consume news coverage. Feed the algorithms, add to the data. Show the demand is there. This is our time.

— Orlala Chennaoui 🇫🇷 🚲 (@SportsOrla) July 24, 2022
"It feels like we're part of a historic moment," says Magdeleine Vallieres, WHOOP ambassador riding with the EF Education-Tibco-SVB team. "I already had a message from a woman who told me her daughter watched the Tour and now she wants to start cycling. It made my heart melt."
"The next generation are the girls that are watching the Tour now, they're going to believe that it's possible," Vallieres continues. "I remember when I watched the men's Tour growing up, I wanted to race and I thought I was going to race with the men . . . now girls can see that it's actually possible to get here."
And seeing yourself reflected in sport is everything. "We can't do anything we can't visualize, so by having the Tour de France for women, it's going to let women say, 'Oh, I want to do that,' or 'I can do that,'" Martin says. "Even if it just gets them on a bike, it's going to be best for women's cycling. We need more women in sport and women need sport."
"It's so easy to think, 'Oh, I can't do this,' or 'I can't do that,'" she continues. "I'm from a small town of Michigan, and if somebody would've asked me when I was in high school or if I would've said to somebody, 'Oh, I want to win the Tour de France when I'm older,' everybody would've laughed at me. But we can't do that to ourselves. We have to keep our minds open and let our dreams happen and fully support those dreams because that's what it was for me. It was a dream come true."