Products You May Like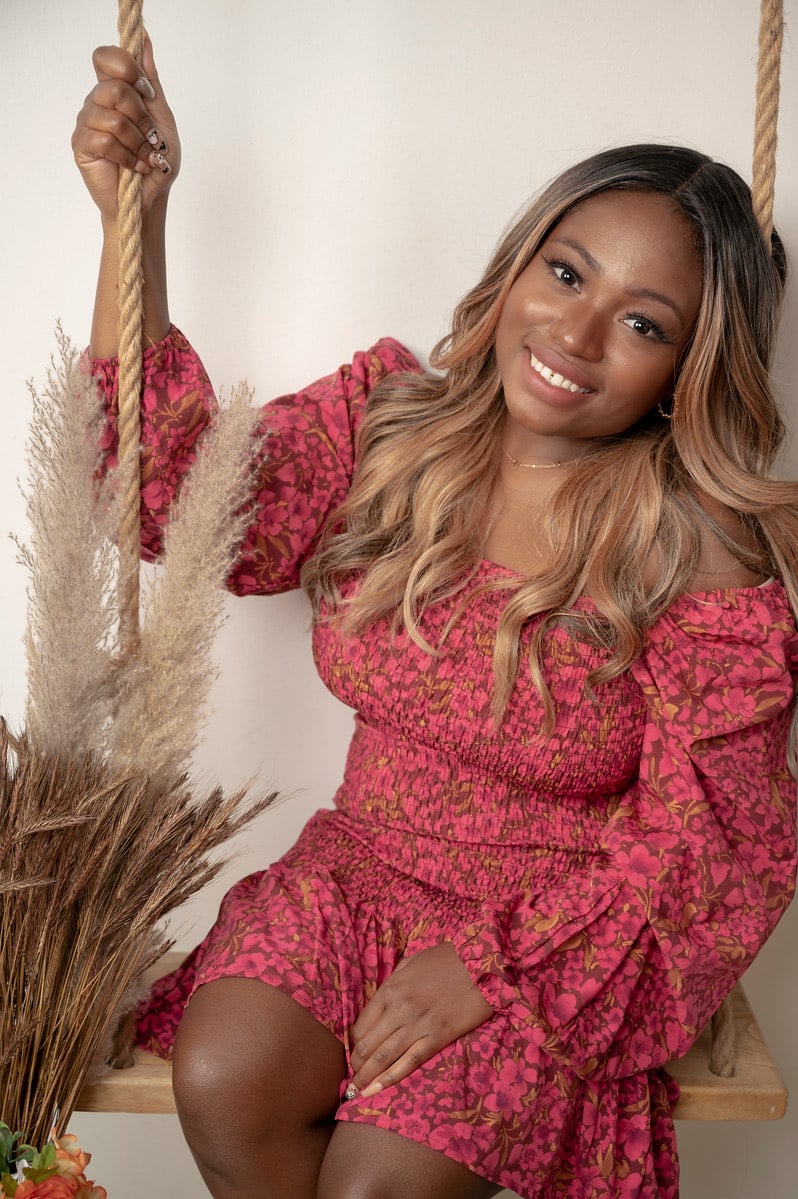 Image Source: Courtesy Delilah Antoinette
Delilah Antoinette's personal wellness routine just sounds calming. As the founder of Black Girl's Healing House, Antoinette has had years to figure out exactly what helps her feel her best and to put it into practice every day — even if, right now, it can't always be about her. "I'm a mom," Antoinette tells POPSUGAR. "So everything has been modified based off of the feelings of my toddler."
Right now, Antoinette's morning routine involves grounding herbal tea (she loves nettles and oat straw), sound-bowl therapy, meditation, and journal prompts or positive affirmations. At night, it's all about aromatherapy (especially lavender), calming teas, and binaural beats (she uses YouTube) to meditate and calm down for sleep.
A wellness expert herself, Antoinette is constantly picking up new tricks from the 60,000 members of Black Girl's Healing House, the Facebook group she founded and expanded over the last four years. These days, it's a community, a business, and a marketplace of its own, a place for people to connect and find healers across the spectrum, from herbalists to yoga instructors to therapists. It's a place where women go to find help and community, because when Antoinette's own wellness journey started, that was exactly what she craved.
The Story Behind Black Girl's Healing House
In 2018, Antoinette was newly married (a relationship she's previously described as toxic), newly graduated, struggling to find a job, and dealing with anxiety and depression. Looking for a more affordable alternative to therapy, she turned to holistic healing practices: yoga, meditation, reiki, sound-bowl therapy, crystal healing.
There were a few wellness and healing centers in her city of Birmingham, AL, but "they were all white-owned and they were all on the other side of the city," Antoinette says. She would drive for 20 minutes or half an hour, walk into the room, and feel immediately uncomfortable. "My first yoga class, it was me and a bunch of middle-aged to older white women," she recalls. "One lady actually . . . slid her purse away from me when I came and sat down." There were all the uncomfortable smiles, the tone of "Oh my gosh, we have a Black person here!" Antoinette remembers.
At a wellness event after the class, she wandered among the vendors and free-sample tables. "It was really a really, really nice event," she says. "There just wasn't a lot of people that looked like me." Browsing in a crystal shop, she remembers being followed around and stared at. "No one really asked if I needed any help. They just stood in the corners and watched me," she says.
The experience turned a place of healing to one of discomfort. "I started to question if other Black women felt the same way," Antoinette says.
What Is Black Girl's Healing House?
Already the admin of another Facebook group, Antoinette decided to create a new group "centered around Black women's healing." Black Girl's Healing House started with about 200 members and grew steadily, hitting the 10,000-member mark in 2019. Then the pandemic came, and new members started pouring in.
Antoinette thinks the spike happened for a few reasons: racial tension, healthcare workers (which make up a significant demographic in the group) seeking support, an increase in anxiety across the board. "The places where [people] used to go to heal — their yoga studios, their gyms, their metaphysical shops — those were all closed," Antoinette remembers. "It brought everybody online." Reading through the backlog of requests to get into the group, Antoinette heard from people looking for communities to help with healing, anxiety, and depression. Some were looking for remedies to help with COVID-19 symptoms. At that point, she says, "it went from more of a sisterhood to kind of a marketplace with its own ecosystem."
"When we prioritize Black healing spaces, we're able to normalize therapy, but we're also able to bring in alternative healing modalities."
Today, Antoinette says Black Girl's Healing House is a mix of both. There are people looking for particular services — doulas, holistic doctors, life coaches — in particular cities and states, so the brand created sub-groups based on location. Some people need a space to vent. Other people are looking for friends. Black Girl's Healing House now offers its own events, retreats, and classes as well.
Even today, the group is the first place Antoinette goes when she's looking for healing resources. "Black wellness is still so small," she explains, though she has seen the needle move over the past few years. There are more companies and brands, like hers, that focus on showing Black people "alternatives to healing that we never really knew [about] because we, as a people, are kind of hush-hush about a lot of [these] things," Antoinette says. "Seeing actual representations of Black people healing is starting to become more normal."
It's why communities like this, made for and by Black women, are so crucial, Antoinette adds. "I feel that Black women find healing within communities." And there's a reason a "huge stigma" remains around things like therapy and mental health in the Black community, she explains. "It's the fear of being labeled, or mislabeled. It's the fear of being misdiagnosed. It's the fear of the actual healthcare system. And I feel when we prioritize Black healing spaces, we're able to normalize therapy, but we're also able to bring in alternative healing modalities that may work a lot better for some people."
Antoinette believes in both for herself. "I feel that I need an actual therapist to get to the root of things for me," she says. "And I feel like I need more of a spiritual life coach in other sectors of my life, because healing is holistic. It is about your mind and your body and your soul . . . You need to have them all working together, cohesively." For her, this journey has been twofold. She found the community she was searching for — by tapping into her own power and creating it for herself. "It's changed my life quite a bit," she says. "It really helped me find my voice."